26 Jan 2010
It's a rare occasion where I finish reading a business book and say 'brilliant!' (In fact, I rarely finish reading a business book at all.)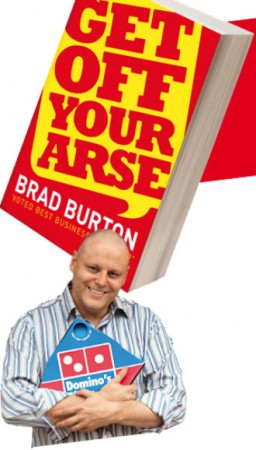 But Brad Burton's Get off Your Arse is unputdownable (yeah, I know it's a made up word).
The pace of the book is frenetic and not for the faint-hearted. And Brad, who hails from a tough area of Manchester, tells it like it is: yes, being self-employed is scary, difficult and sometimes you want to chuck the towel in. But ultimately, it's a fantastic ride. You've just got to get off your arse and get on with it.
I've met Brad. And he's what you'd describe as a diamond geezer. But don't let the cheeky chappy northerner act fool you. As Brad himself says 'I'm not as thick as I look.' Ain't that the truth. In just a few short years Brad's gone from delivering pizzas for extra cash to heading up the UK's fastest growing business networking group. (4Networking.)
Part coaching, part biography, part humorous, part inspirational, GOYA is packed full of advice, tips, and success stories about business, networking and life. (Without being all you're-so-awesome-you-totally-rock American.)
If you're running your own business, or thinking about getting out of the corporate rat race, buy this book. It's essential reading.