10 Dec 2009
This week saw the 30th Plain English Campaign award ceremony, held at The Brewery, London, honouring the best and worst in written communications.
There was the imaginatively named Web Award for the 'clearest website', won this year by the Financial Ombudsman Service. Whilst The Daily Telegraph, BBC Radio 1, and Birmingham Mail were all winners in the media category for excellent journalism.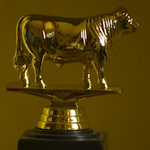 But for me, the best awards are the Golden Bull, Foot in Mouth, and Kick in the Pants awards, given to businesses and individuals who insist on suffocating simple ideas under layers of jargon and puffery.
The Golden Bull Award is given for the 'worst examples of written tripe'. And there were some absolute crackers this year.
1. Department of Health website
Information on their site about preventing disease.
Primary secondary and tertiary prevention. Primary prevention includes health promotion and requires action on the determinants of health to prevent disease occurring. It has been described as refocusing upstream to stop people falling in the waters of disease.
So in other words, doctors can prevent disease before it occurs.
2. Equity Red Star Insurance
For a customer's motor insurance schedule
ANY ENDORSEMENT NUMBER SHOWN IN THIS SCHEDULE BUT NOT INCLUDED IN THE ENDORSEMENT APPENDIX SHALL BE DEEMED TO APPLY AND FORM PART OF THE APPENDIX THE ENDORSEMENTS BEARING SUCH NUMBER(S) BEING ATTACHED OR PREVIOUSLY APPLIED.
So basically you're screwed. If you have a car accident don't bother calling us.
3. LSIS (Learning and Skills Improvement Service)
For a consultation booklet 'Statement of strategic direction' sent to schools.
The government calls insistently for more innovation. But doing things in a new way will not necessarily lead to better outcomes. So, what do we mean by innovation? We share the thinking of, for example, the Work Foundation, which sees innovation not "as a set of discrete and singular moments of change" but rather as "a culture or process in which drivers of change are embedded in and facilitated by the strategic outlook of the organisation."
To draw an analogy from nature, innovation may be thought of as 'the new season' growth' rather than a series of isolated 'bright ideas'.
What the hell? Is this person on drugs? Haven't teachers got enough to do without receiving this kind of nonsense?
4. Balaclava Public School
For a letter to parents about making iced cup cakes.
Dear parent/Guardians

The Grade 7 Science classes are nearing the completion for the unit Pure Substances and Mixtures. In this unit, students have been introduced to the Particle Theory of Matter, and to some of the terminology related to the field of chemistry. They have also been given the opportunity to explore, and conduct experiments related to the properties of solutions and mechanical mixtures.

At this time all students are encouraged to discuss with you the content and expectations of the culminating task along with how it will be assessed. This culminating task allows students to demonstrate the knowledge and skills that he/she has learned throughout the module.

Although students are responsible to independently complete this task, we would very much appreciate your assistance for the experimenting component, as students require access to a kitchen and some ingredients to develop their own mixture.

Thank you in advance for your interest and co-operation.

Sincerely,
In other words: your kids are making cup cakes. In your kitchen. You gotta buy the stuff. It will be fun.
The Foot in Mouth Award for 'baffling quotes by public figures' went to Lord Peter Mandelson for his comment on the investigations into MP's expenses.
"Perhaps we need not more people looking round more corners but the same people looking round more corners more thoroughly to avoid the small things detracting from the big things the Prime Minister is getting right."
Gawd love 'im. What is Mandy talking about?
While the Kick in the Pants Award went to the Metropolitan Police 'for their continuing use of jargon and gobbledygook in public information.'
You're nicked sunshine.