06 May 2010
If you're in the UK, you've probably been inundated with marketing bumph from your parliamentary candidates in the last few weeks. They're often garish, glossy flyers stuffed full of daft images of various political bods grinning gormlessly as they plant a tree. And they tend to go from my letter box to my recycling box with hardly a glance.
But yesterday, this arrived from my Lib Dem MP Edward Davey: a personal letter. Well, not quite. It's one of those handwritten-but-printed letters but it still felt more personal than all the other stuff I'd received.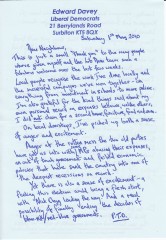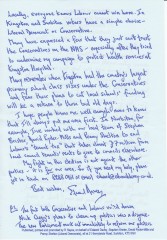 And do you know what? I read the whole thing from beginning to end.
A few weeks ago, at a networking event, I met Jerry Marshall from Tozer Marshall Design in Kingston. We chatted. We swapped business cards. The usual. And then a few days later I received a handwritten postcard from him saying thanks for the chat and hopefully we can work together at some point in the future. How cool? I actually called him up to say thank you, and the postcard is now pinned to my wall.
Is this old style personal correspondence making a bit of a comeback in these days of impersonal emails, tweets and texts?
James over at Freelance Switch thinks so. In a blog post this week James has some great old school ideas:
Write a handwritten thank-you note to your clients, then tuck in an extra business card – and a request that the client pass on that card to a colleague who could use your services.
So I'm digging out my fountain pen and I'm getting writing. Which only leaves the question: Should I vote for Ed Davy or Monkey the Drummer from the Monster Raving Loony Party? (And yes, he really is standing in Kingston.)