29 Jul 2010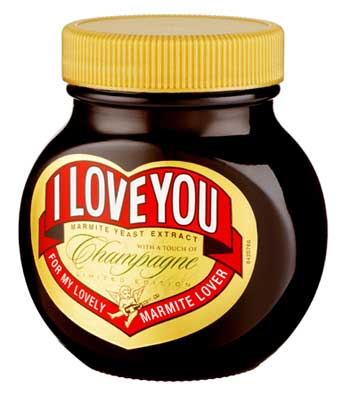 In the paper the other week some jobsworth from the council described a new parking regulation which would be 'like marmite'. He then went on to explain that local residents would either love it or hate it.
Which got me thinking. How many other advertising slogans have become part of the vernacular? Which awesomely brilliant straplines do we now say every day?
Here are a few I could think of.
Lovely Jubbly
Lovely Jubbly was first used in an ad campaign for Jubbly orange drink back in the 50s. (Before my time. No, really.) It came in a cleverly shaped pyramid carton, made by Tetrapak, and, by all accounts, was impossible to knock over.
Now used to mean great, fantastic, good stuff, the phrase was made really famous by Del Boy in TV's Only Fools and Horses.
"Shall we knock off early and go down the pub?"
"Lovely Jubbly."
Does exactly what it says on the tin®
Used in ad campaigns for woodstain manufacturer Ronseal since the early 1990s, Does exactly what it says on the tin® was created by Liz Whiston and Dave Shelton of London ad agency HHCL.
The phrase is now used to describe anything that's straightforward, simple to use or behaves as expected.
"That WordPress plug-in you recommended is great."
"Does exactly what it says on the tin."
Because I'm worth it
Made famous by beauty brand L'Oréal, the slogan Because I'm worth it was changed to the more outwardly looking Because you're worth it in the mid 2000s and the more inclusive Because we're worth it in 2009.
Now used by women worldwide to justify any overindulgence in alcohol/food/shopping.
"Are you getting those £500 Jimmy Choos?"
"Yes! Because I'm worth it!"
The future's bright the future's Orange
Used by telephone company Orange for over 14 years, the famous strapline was laid to rest two years ago. Written by ad agency WCRS in 1994, the slogan was used to launch the mobile phone brand into the UK market.
The phrase is now used to describe anybody who has overdone the fake tan.
"OMG. Did you see the colour of Katie Price?"
"Yep, the future's bright."
Just do it
Considered one of the most inspirational slogans of all time, Nike's Just Do It has been around for over twenty years. Created by Dan Wieden of ad agency Widen+Kennedy the slogan came about after a meeting between Wieden and Nike where he complemented the Nike team for their go-getting attitude. "You Nike guys, you just do it."
Now said to anybody considered to be slacking.
"Not sure I can be bothered to run 5 miles tonight."
"Just do it."
Simples
Made famous by Aleksander Orlov the meerkat, Simples has featured in all Compare The Market's TV ads since January 2009 and was created by marketing agency VCCP. Aleksandr has gone on to enjoy fame and fortune in his own right and has thousands of followers on Twitter and Facebook.
Simples is used to describe anything that's really easy to do. 
"Did you get your plasma screen up OK?"
"No probs. It was seem-pels."
I'm lovin' it
Using the lyrics from a Justin Timberlake track, the I'm lovin' it slogan was created by German agency Heye and Partner and has been used by McDonald's since 2003.
I'm lovin' it is now used to show your appreciation of absolutely anything.
"What do you think of the new bin in the staff room?"
"Oh, I'm lovin' it."
 
Any others? Stick them in the comments!