28 Aug 2009
Clearing out some old magazines and newspapers this week, I came across this great little ad from Hiscox, a UK based insurance company.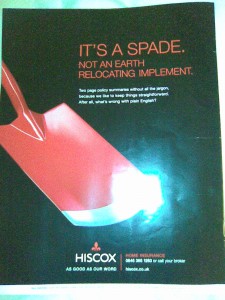 The ad explains how they believe in straightforward jargon-free policies and how they're committed to using plain English. Hooray. Couldn't we all do with a bit of plain ol' English from our insurance companies?
Now I don't about you, but when I come to renew my contents insurance I'll probably give these guys a buzz.
Check out their website as well. Good stuff.