19 May 2010
I get loads of direct mail. I give most of it a cursory glance – more out of professional interest than anything else – before tossing it in the bin. And you probably do the same.
It seems that Amnesty knows this. Because their latest direct mail piece has on its front cover:
This flyer will ask you to make six choices. Here's the first: Read it or bin it.
Now there's no way I'm going to bin it now. The least I'm going to do is open it. Inside follow more choices:
Speak out or stay silent? Object or accept? Make a stand or walk away? Act or do nothing?
And then finally Join or not join?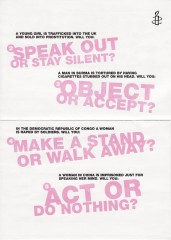 The copy includes the line 'for these and many, many more the fact you chose to read this leaflet rather than bin it, is a source of unimaginable help.' Powerful stuff.
As a direct mail piece this is superb. Eye catching, emotional, appealing and with a strong call to action.
Find our more about Amnesty.
.