09 Sep 2009
Is there anything more tedious than waiting for your baggage at the airport? It's enough to make your holiday joie de vivre go right out the window.
So there I was at London's Gatwick Airport at the weekend, waiting with breathless anticipation for my case to arrive, when I spied this ad for Gatwick Express, the fast train service into central London.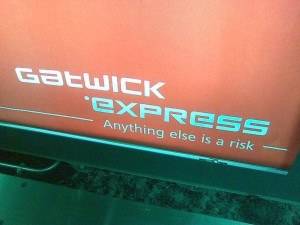 It's not the ad so much that bemused me as the strapline: 'anything else is a risk'.
What? Risks are normally associated with going on holiday and not having medical insurance. Or missing your mortgage repayments and getting your home repossessed. Or driving around without motor insurance and hoping you don't crash into anything.
But using another mode of transport, other than Gatwick Express, seems like a perfectly safe and risk-free option.
Sure, the other trains may take a little longer. The Express takes only 30 minutes after all. But it does cost a whopping £16.50. (At least.)
The local train services, on the other hand, cost between £7.90 and £10.90 and take 35 to 45 minutes. And they'll get you there in perfect comfort – even if they do take a few minutes longer.
You can even take a coach. Only £7.30. Or a bus for two quid. What a bargain!
So as far as I can tell, all the other options seem unrisky.
What is Gatwick Express going on about then? Are they saying that because they offer a fast, direct service, there's less likely to be hold-ups, delays or traffic jams? And if you really have to be in central London super-fast-quick, for a very important meeting, than this is the way to go?
Why not say that then? How about:
The fastest way to central London
Your first class journey continues
Next stop: central London
Or
Gatwick to London non-stop

They took me all of five minutes to think of, and all seem infinitely better than 'anything else is a risk'.
Got a good strapline for Gatwick Express? Leave it in the comments.