05 May 2009
Right we need a poster. Something that's eye-catching. A nice type face, classic, something that will inspire, that has authority. Yep, a crown would be good. And the strapline? It needs to reassure. Be strong. Be positive. Give hope. Who's the target audience? Errr…that'll be everybody.   
If this was 2009, a central London design agency would charge a whole heap of cash for this project. But it's not. It's 1939. The start of the second world war, and an unknown civil servant is tasked with creating a propaganda poster to be used in the event of an – gulp – invasion.  
Of course it never happened. And the Keep Calm And Carry On poster was, thankfully, never seen by the British public. That was, until it was discovered by the owners of Barter Books in Northumberland, in the bottom of a box of dusty secondhand books.   
They printed off a few copies and the rest, they say, is history. Nowadays, the poster is everywhere: The Serious Fraud Office; the US embassy in Belgium; the Prime Minister's strategy unit at No. 10; the Lord Chamberlain's Office at Buckingham Palace; and the Turner Ink office, to name a few. Apparently Becks has the t-shirt.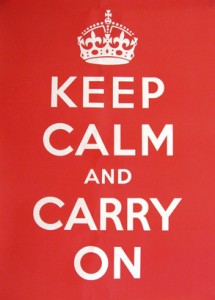 With the economy in freefall, jobs, homes and pensions under threat, and a swine flu pandemic around the corner, it's easy to see why this poster has recently become so popular.
Yep, things are tough at the moment. But do you know what we should do? Keep calm and carry on.