05 Aug 2010
You may recall, a couple of months ago, I wrote a blog post about how I was going to call everyone I was following on Twitter. Yes, I know. Crazy.
And yet, I have to say, so far it's been absolutely brilliant. I've swapped ideas, learnt new things, planned a few joint projects and really got to know the people behind the avatar. (Oh yeah. And talked a lot of footie.)
I started with UK copywriters* because we're a friendly bunch by nature. And at the end of each conversation I asked for a top tip or a few words of wisdom. Amazingly, everyone said something different.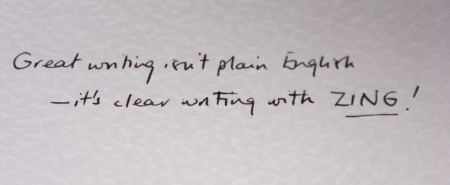 "Read everything and anything from Hemingway to the Shoot Annual. Don't be snobby about it." Johnny Cullen @EustonDoYouCopy
"Always put yourself in your audience's shoes." Jill Tomlinson @shelovestowrite
"Clients, film makers, writers, developers, account managers – you don't make a viral, your audience does." Larner Caleb @larnerC
"Great writing isn't plain English – it's clear writing with Zing!" Ben Locker @benlocker
"If your copy seems ridiculously simple, it's finished." Tom Albrighton @tomcopy
"Always have a cup of tea before you start writing." Caroline Dalzell @firstforcopy
"Exterminate the word 'that'." Joy McCarthy @WORDright
"Remember it's about the reader not the writer." Chris Street @bristoleditor
"Have the confidence to write like you speak." Claire Lynch @goodcopybadcopy
"Write what comes naturally, don't be contrived or overly SEO conscious. More often than not you'll include enough keywords without thinking." Alasdair Murray at @Alconcalcia
"Never answer the phone in your PJs and slippers. Dress as if you were going to meet a client and you'll feel more professional." Elaine Swift @laini 
"One simple thing any aspiring writer (or even an experienced writer) can do is run every word through a 'Would you say this to someone you know?' filter." Jamie Hudson @jamiehudson
"Confidence carries the day. Write like you're an expert, talk like you're an expert, act like you're an expert. Even if you're not, it'll carry you through until you are." Andrew Nattan @Mr603
"Don't work for people because you love them or their product. Work for them because they'll pay your invoice on time. If you love them too, that's a bonus." Andy Maslen @andy_maslen
"Read out a line of your copy that you think is selling benefits. Now imagine your reader's response. If they're saying, "so what?" it's not a benefit. When they'd feel stupid asking 'so what', you're home." Shamelessly borrowed from Andy Maslen by Mike Brown @word_forge
"Treat your client's business like it's your own. Share the passion and the words will flow." Howard Smith @NoSloppyCopy
"Aspire." Martin Williams @ukcopywriting
"Put passion before punctuation." Ali Turnbull @fit_to_print
"Good writers borrow from other writers. Great writers steal from them outright." Stolen from screenwriter Aaron Sorkin by Tom Mason @totmac
"Be yourself. Being creative means bringing a little bit of yourself to the table. After all, that's where ideas come from, your personal experience, your way of expressing yourself. It's when you try to be something else, or when someone tries to force you to write like they do, that it all goes wrong." Ali Turner @Copy_Girl
*There are so many UK copywriters in the Twitter gang I'm 'doing' them in three posts. More tips from UK copywriters later in the year.
Who shall I call next? SEOers? Or designers?