29 Jun 2010
Well that's that then. The fat lady is singing and we're all as sick as a parrot. Following England's early bath we've started the post mortem and the clichés have been spewing out quicker than Lionel Messi on speed. 'We're failing at grass roots level'. 'We need to have a roots and branch investigation.' 'England needs an English manager.'
What is it about football and clichés? Don't know. But a World Cup wouldn't be a World Cup without a few 'played his socks off' would it? Here are some other favourites we've heard in the last few weeks.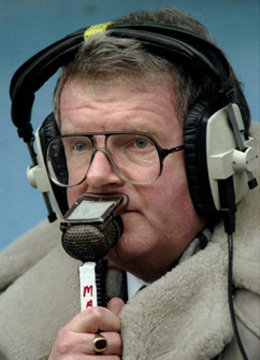 Argentina is a team that likes to play football
As opposed to all the other teams which would prefer to play rounders or ping pong given half a chance.
He's not that kind of player
Said of a player whose crunching tackle on the opposition's No. 9 has led to him being carried off on a stretcher. Thus proving he is that kind of player.
He should have scored
Yes, that is the idea.
Couldn't have hit it any better (as the ball whistles by the far post)
Did it go in? Nope? Then he probably could have hit it better.
The defender's done just enough to put him off
Said of a centre half who has just clattered into the back of a player, sending him into the first row.
It's important……we get off to a good start/score first/keep our heads up/defend well/ concentrate
Win. We just need to win. That's the most important thing.
A game of two halves
Yep. Since the rules of Association Football were written in about 18 hundred and frozen to death it has always been a game of two halves. Unless your mum called you in for your tea early.
They've parked the bus in front of goal
Actually, no. The other team is defending well. And I think you'll find the bus is in the car park where the driver left it.
If it wasn't for the keeper they would have scored
Nooooo! Really? Damn that goalkeeper.
Six inches lower and that was in
Aaah that's the point see? The crossbar is there for a reason.
Take one game at a time
In fact, there's no other way you can play apart from one game at a time. Even if you're 'efficient Germans' you can still only play one game at a time.
The Manager has lost the dressing room
Look it's there. Next to the broom cupboard and the toilet. That Pavlos Joseph bloke seemed to find it ok.
Gerrard and Lampard can't play together
What are they? Seven? 'That's my ball.' 'No, it's mine.' 'Mine!' 'Waaaah!' They're two adults who play football professionally. Of course they can play together. Oh wait…
A good day at the office
Not really. Prancing round a bit of grass for an hour and a half is not like working in an office is it? Do I see a PC, a printer, a fax machine, stale milk and random coffee cups left in the sink? I do not. It's not an office.
We always knew we were in for a tough game
We were crap and were played off the park.
They've got a lot of quality players
See above.
They worked very hard and made it difficult for us
See above.
Any more? Leave 'em in the comments!