02 Feb 2010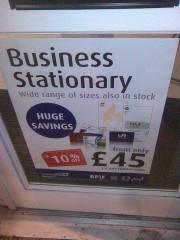 I spotted this on the Holloway Road this week.
Well we have just had a recession. So I guess some businesses may be stationary. But I don't suppose this is what they are talking about.                                               
Come on people. This is a schoolboy error. The easiest way to remember the difference:  stationers (with an E) sell stationery (also with an E).