13 Jul 2009
During the last six months Twitter has gone crazy. In fact 75% of the tweeps now using Twitter have only joined this year. There are loads of articles, blog posts and forums all writing about Twitter and how great it is for business.  
But this post is a quick and practical guide to actually using Twitter. And follows a call I had from a friend and colleague this week who said 'I've just opened a Twitter account. Now what?'  
So. You've opened your account. And I'm assuming you've used your real name where it says name and your company name where it says username. Your username will be the name that shows in all your tweets so it's worth not choosing something daft.
Stage 1 Do all the admin bits
Click on Settings and under Account make sure
1. You've got a link to your website (you want potential followers to see what you're all about, don't you?)
2. You say where you are in the world. This will make it easier for people to find you by location.
3. You've got a great bio. Explain in as few words as possible what you do, what you're offering or what you can do to help. Don't be all serious and corporaey here. But give it some thought. This is the first time someone is meeting you on Twitter. So don't sound like a loon.
Click on Picture and make sure
4. You have a great picture. Of you. And not the company logo. People want to chat to a real person, not a brand. Your pic should be face on and ideally make you not look like a felon.
Click on Design and
5. Choose something other than the standard blue. See Twitip's excellent post on creating custom Twitter backgrounds. 
Click on Notices and
6. Choose whether you want to be notified by email every time someone follows you or sends a direct message. This is your call. (I have them all ticked so I don't miss anything.)
Right. What next. Write tweets with no followers? Or start following people in the hope they follow you even though you have no tweets?
Aaaah. The proverbial chicken and egg. I'm going with following first. But get some tweets on there pretty darn quick as well.
Stage 2 Start following
Start following people you know pretty well. They will probably take pity on you and follow you back. So click on Find people and search for their name or email address.
Also look for people in your industry or community. And see who they're following. Anyone interesting? Click the follow button. You might want to follow some big 'uns. I follow BBC Click, Guardian Tech and Google, as Turner Ink is into that sort of thing.  
Remember you can easily unfollow at some point in the future.
Note on following: Quite oddly you'll get people following you almost straight away. But before you get excited, there are bits of software that automatically follow people. Bah. So before you follow back, take a look at their Twitter bio and their profile page. What are they tweeting about? Anything good? Or useful? Or to do with your industry? If so follow them. If not ignore them. If they look like they're porn stars, sellers of dodgy medicines or claim they can earn you a $1 million in five minutes, block them. Just click on followers, click the actions button next to their name and click block. You don't want these tweeps in your community.
Stage 3 Get tweeting
Ok get tweeting. About what though? You might want to think about your Twitter strategy before you set up your account. And decide how many hours a day you can commit to Twitter. Just kidding. But be aware that Twitter can be more addictive than crack. So be strict with your time.
Now, if you're using Twitter for business you might want to avoid tweeting 'I've just got up.' Especially if it's midday. Or 'It's a beautiful day.' Or 'I'm really hungover.' Do people really want to know this? I think not. You can show your personality or course. And you should. But try and make it work related or useful and interesting to your followers.  
And don't forget: Once you start tweeting don't give up! Don't write heaps of tweets in the first week and then abandon it. You gotta keep going with it. It's the law.  
Stage 4 Get TweetDeck
Right. Next step. Abandon the Twitter website and download TweetDeck. This is a cool application which makes it really easy to see all your tweets, mentions and direct messages.
Note: There are a few other apps so have a play around and see which one you like best.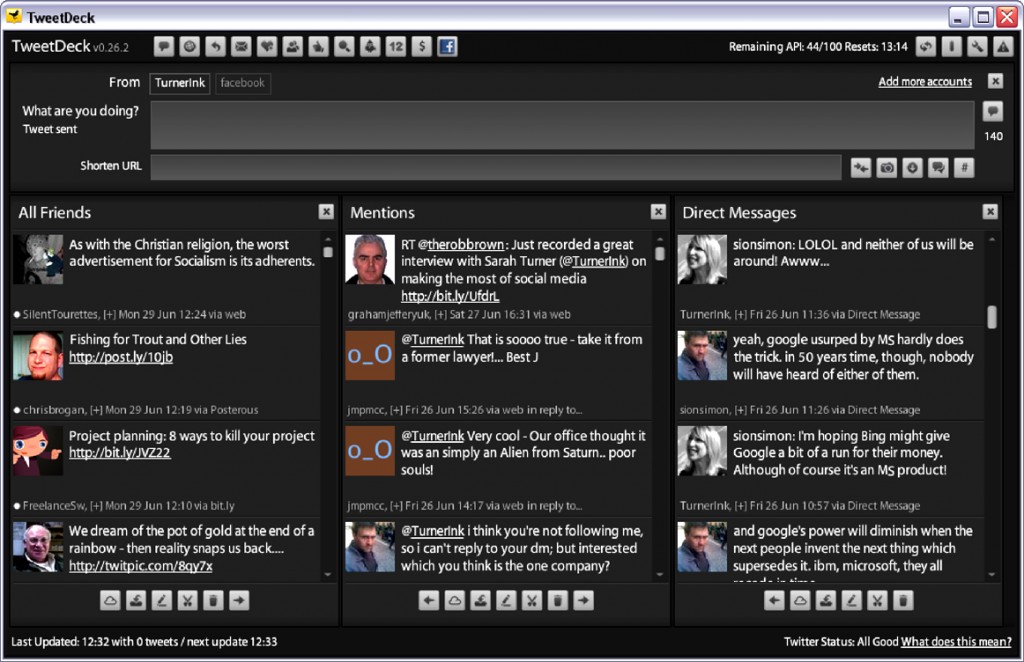 Ok, if you've picked TweetDeck, take a look at the far left column. This shows all the tweets from people you're following. If you hover above a picture you'll see four little buttons come up. If you want to send a reply to a tweet just click on the top left button (the backward arrow).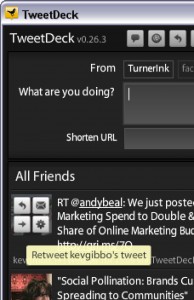 So @kevgibbo would appear at the beginning of my tweet in the message box. Now in the old days an @reply could been by all the people following Turner Ink. It was public. This has changed quite recently (it may well change again so keep an eye out on the Twitter website) and now @replies can only be seen by people who are following both me and Kevin. Phew confusing or what? It just means people can follow a conversation more easily and not see half of it.  
Click on the bottom left button (the arrow) and RT @kevgibbo now appears in the message box. This is a retweet. It's a bit like forwarding an email from a friend to all your other friends. So if someone you're following writes a good tweet or includes a really interesting link, and you want to share it, just click the retweet button.
Note on retweeting: Retweeting is a great way of building relationships and someone is more likely to retweet your stuff if you retweet theirs.
A retweet can be seen by all the people that are following you. If someone retweets one of your tweets (RT @TurnerInk ), or replies (@TurnerInk) or mentions you in a tweet (Ha ha @TurnerInk is hilarious) these will all appear in the Mentions column, so you can see at a glance who's sharing your stuff or tweeting about you.
Click on the top right button (the envelope) to send a direct message. So the tweet would now start D @kebgibbo and only Kevin would see the message. The message would appear in my Direct Messages column. And it would appear in Kevin's Direct Messages column. 
The bottom right button is other actions. These include looking at someone's profile, unfollowing and adding to a group.
If your tweet includes a link to a blog post you've found, or a news article you've enjoyed, just chuck the URL into the box where it says shorten URL and click the double arrows box to the right. This will – guess what? – shorten the URL so you don't use all your 140 characters up in one go.
For more on using Tweetdeck check out 1st Web Designer's brilliant blog. Note that the Replies column is now called Mentions on the latest version of TweetDeck.  
Stage 5 Be nice
Share information. Have conversations. Enjoy a bit of banter. Ask questions. But don't try and sell. Trying to flog your wares straight away on Twitter is a turn-off.
If someone retweets (RT) you say thank you. If someone direct messages you (D) tweet them back. If someone puts out a question, answer it.
Take a look at Tec N' Marketing's blog post, 11 things to avoid on Twitter for more on Twitter etiquette.    
And most of all have fun. Twitter is a handy little tool. Enjoy it.   
More reading:
Grab yourself a copy of Paul Chaney's Complete Guide to Twitter for Business which is now free to download. 
Also check out immediate future's Guide to Twitter for PR and Marketing Professionals. Also free to download.
And finally, a mighty long list of Twitter terms and tools from Sitemasher. 
Are you already using Twitter for business? How's it going?  Share your success stories or tips in the comments section.