08 Sep 2010
A few weeks ago, I managed to squeeze in a quick lunch with the very busy Julie Hall of Springmedia and Women Unlimited. (Yes, she really does run two companies. And a family. She's, like, Superwoman!) Over a jacket potato we discussed positive discrimination (we disagreed), the UK versus the North American work ethic, and the tools she uses to help her run her two businesses.
Turner Ink: Not only do you run Springmedia, a successful web design company, you're also the founder of Women Unlimited, an online networking group aimed at business women. How did that come about?
Julie Hall: I created Women Unlimited in 2008 to be the kind of community and network I wished I'd had when I started my own business back in 2000.
Only 15% of small businesses have women owners. And given that we are 48% of the workforce, I figured there needed to be a place that encouraged women into entrepreneurship and helped them to succeed.
TI: Why did you want a women's group? Do you think women have different business needs?
JH: No, I don't think that women have different business needs. But many of them do lack confidence and business experience. So we aim to fill in the gaps and show them what's possible.
TI: So how does Women Unlimited help women in business?
JH: Well, we offer practical advice and support via daily articles and blog posts, and the social networking groups. And of course we run events and workshops, which give women the skills they need.
The LinkedIn Group has been a great surprise to me, because it's turned into a very supportive place for women to ask questions and connect with each other.
TI: Are women more supportive of each other in business then or is that just a myth?
JH: That's an interesting question. I think it depends on the person. I'm a girls' girl. I love women and talking with them and finding out what they're doing. Women Unlimited's events have a great reputation for being really inspiring and fun. One woman, called it a 'spa for my mind'.
TI: I attended a WU event last year. The speakers were fantastic. It was an inspiring afternoon
JH: Yes, the events are workshops are well attended and very popular. We run a few big events on and around International Women's Day (March 2011) and we run specialist events for different types of businesses. We've just completed one for the food industry.
TI: So what are Women Unlimited's plans for the future?
JH: We're launching a membership area and taking our training courses and events to other cities in the UK.
TI: Ok, I'm going to ask it – what are your thoughts on positive discrimination?
JH: [Laughing] You know this is one of my soapbox speeches! I'm in favour of positive discrimination because without it, change will take 50 years. I think what's going on in France and Norway is a great example of how to do it. However, I think culturally in the UK it won't be possible to bring positive discrimination in because there's so much resistance to the idea.
TI: As a Canadian, do you think British women work differently?
JH: You'll probably hate this, but North Americans definitely work harder than their UK counterparts. The whole work-life balance thing is just not something that they stress about in the same way we do here. They have less holidays and work longer hours. Though, I'm not saying that's better. And even though we scorn the personal development culture that they have in North America, they are much more success oriented and less prone to let fear stand in their way.
TI: So who or what has been your greatest influence in business and why?
JH: A guy by the name of Peter Massey. He was my first boss in the UK and gave me my first break. He also taught me that sometimes lack of knowledge about something can create innovation and shouldn't hold you back from trying something out.
TI: What other business women have inspired you?
JH: I'm inspired by all the business women that I meet. They all have their own visions, passions and ideas that they want to share with the world. I'm very lucky in that many successful women have supported what we're doing by speaking at our events; people like Camila Batmangelidgh, founder of the Kids' Company, Claire Burnet, founder of Chococo and Polly Gowers, the founder of Everyclick.
TI: How can other women succeed online?
JH: I recommend that everyone has a clear business model before they start. Unfortunately, there is no magic bullet. The best advice I would have is to find a product that people want to buy, be very clear on your differentiation, make sure that you have a way of connecting with your target market and just do it.
TI: What are your favourite business books?
JH: I have shelves and shelves of business books. Some of my favourites are The Art of the Start by Guy Kawasaki, The E-Myth by Michael Gerber and From Acorns by Caspian Wood.
TI: What would you say is your greatest professional accomplishment to date?
JH: Hmm, I'm not very good at this kind of question… but I was absolutely thrilled at pulling off a conference with 250 women back in March.
TI: What's the best advice you have received that you'd like to pass on?
JH: Don't do it all yourself. Build a strong team around you. Do the things that you are good at and bring in exceptional people to fill in the gaps. Your team should include mentors, advisers and team members who can each bring you one step closer to your goal
TI: That's great advice Julie. Finally, are there any resources or tools you'd like to share with other small business owners that have helped you run your business?
JH: So many tools! I'd recommend WordPress, Go To Webinar for teleseminars, Tungle.me for scheduling, someone just shared Echosign with me for online contracts, Eventbrite for organising events, Conference Genie for free conference calling, and the British Library BIPC for research and events.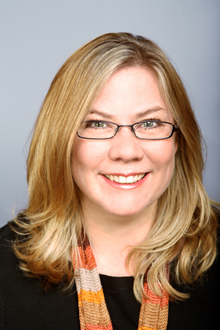 Julie Hall is the MD of Springmedia which specialises in web design and development, logo design, email newsletter creation, blogging customisation, web consultancy and social media strategy.
She is also CEO of Women Unlimited an online community for female entrepreneurs.
Connect with Julie on Twitter, LinkedIn and Facebook.