14 Jun 2012
A couple of magazine campaigns were brought to my attention this week. And they ain't pretty.
First up we had the 'Victim of Beauty' fashion spread from Bulgarian magazine 12 featuring beautiful models with violent and sickening injuries. These include a black eye, broken nose, acid burnt skin and a slit throat.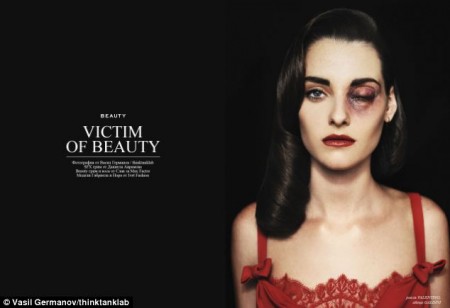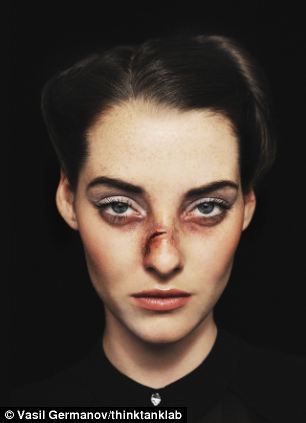 Then Durex very kindly featured the following ad on their Facebook page with the caption 'Poor woman (or maybe lucky one?)'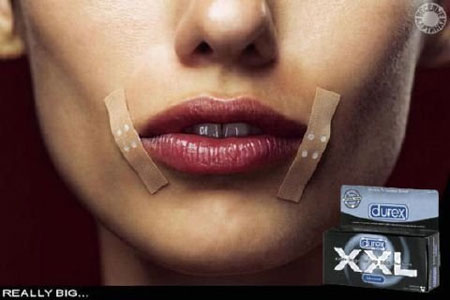 What the hell is going on? How the f**k did these ads ever get made? What creative team is coming up with this kind of stuff? And what client is signing it off?
Creative: So we thought it would be cool to have a woman's mouth ripped in half because – wait for it – the guy's c**k is, like, totally huge.
Client: Oh my God, that's hilarious. Lucky girl.
This is not a recent development either.
This letter (written by moi) appeared in The Face magazine back in 2001 following a succession of brutal and degrading fashion spreads featuring women.
I am becoming increasingly disturbed at the so called fashion pages in THE FACE. In the past  few months we've been treated to women as rape victims…murdered women…women about to be murdered…and women as whores or porn stars. And then in FACE 49 we have 'take me I'm yours because dreams are made of this'. In whose (wet) dreams so these women appear exactly? Certainly not mine. Enough tit shots please, you're alienating half  your readership. Or is that the idea?
And remember this ad from Dolce and Gabbana a few years ago? 'Hey girls, buy a pair of our $300 shoes and you too can get yourself gang raped'.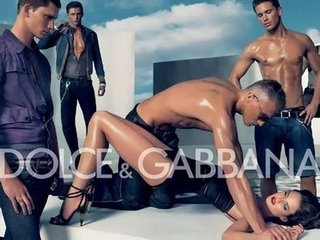 Or this one from suit company, Duncan Quinn. 'You'll look so great in our suits, women will let you humiliate them.'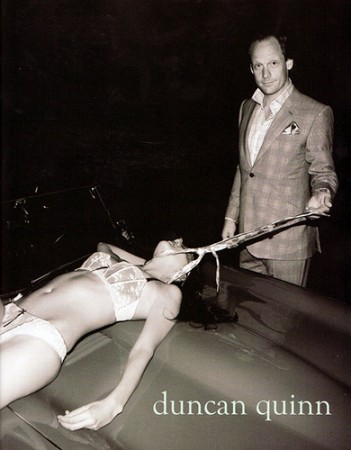 Or 'misbehave and you'll be killed and buried in the middle of the desert. But hey, you'll still look good because you'll be wearing your Jimmy Choos.'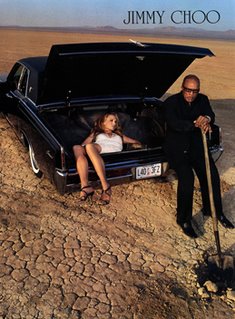 What's happening here? Are we getting so desensitized by torture films like Saw and Hostel, that we think portraying violence towards women is acceptable? Funny? Sexy even?
It's not. It's really not. On average two women in England and Wales are killed every WEEK by a current or former partner. Sexual and physical violence at the hands of a man affect a staggering 45% of women in the UK sometime in their lives.
Images like this do not help. How can we teach young boys (and girls) compassion, respect, love and kindness when there are so-called uber cool, creatives peddling this kind of crap?
Enough's enough. If you work at an agency or in-house, come up with better ideas. If you're asked to do the artwork or photography on these sorts of ads or articles, refuse. If you work at a magazine, don't accept these ads.
Somebody needs to stand up and say these are not acceptable. Why not you?