03 Jul 2009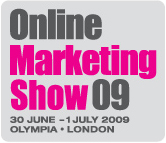 Checked out the Online Marketing Show at London's Olympia this week. And as usual it was a pretty cool show. There was a great buzz around the place. Lots of brands were there. And loads of suppliers gave away free stuff. (Thanks New Media Age for the mousemat.)
Got myself to a few seminars, which I discussed in detail with Rob Brown this morning.
Lucy Freeborn, Creative Director at PropellerNet talked about the power of online PR and discussed a case study which successfully used Flickr and Facebook.
Daniel Cartwright of Direct News talked about creating fresh and tasty content for search engine success.  
While Mike Anderson of Web Marketplace Solutions told us how to make the online shopping experience as enjoyable as possible by not given the shopper too much choice.
Ciaran Norris of Mindshare talked about the power of blogging and shared some great tips on social media strategy.
Want the low down?  Just click on the links below. Each clip is about 8-9 minutes long. Did you go to the show? What did you get out of it? Let us know. 
Sarah Turner talks to Rob Brown about the Online Marketing Show – Part 1 (MP3)
Sarah Turner talks to Rob Brown about the Online Marketing Show – Part 2 (MP3)