12 Apr 2011
In a recent blog post about the Evolving English exhibition, I mentioned Polari.
Polari (or alternatively palari, parlare, parlary) was a secret language or gay slang, popular with the British gay community from about 1900 until the 1970s, and made famous by the 1960s radio show Round the Horne with Kenneth Williams.
But what are its origins? Well, Polari is a complex language and a mixture of rhyming slang; backslang; Italian; Occitan; French, parlyaree, a slang used by sailors and travellers; cant, a slang used by criminals; and Yiddish. There was a West End dialect, based on theatre-speak and an East End dialect that was spoken by sailors and canal men. And because of the popularity of the radio show, Polari could often be found in numerous middle-class households in the Sixties.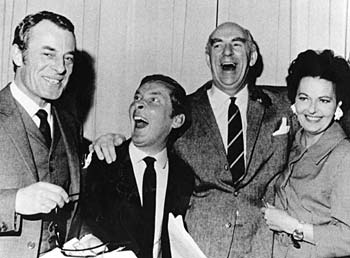 I recall my Mother saying to me when I'd fallen over "come on, give me a butcher's at your lallies and dannies" Which is a heady combination of cockney rhyming slang (butcher's hook, look), Polari for legs and Yorkshire slang for hands. I've no idea how she knows Yorkshire slang. She comes from Tooting.
The problem with Polari is that, until recently, so little of it had been written down. So it's been difficult to determine what words are actually Polari and what words are common ol' slang.
The following words though are generally considered to be Polari.
Bijou : Small
Bevvy : Drink
Bod : Body
Bold : Daring
Bona : Good, Nice
Buns : Bum cheeks
Butch : Masculine
Cackle : Gossip
Camp : Effeminate
Crimper : Hairdresser
Dish : Nice looking man
Dizzy : Scatty
Dolly : Pretty
Drag : Women's clothes
Eek : Face (Backslang ecaf)
Esong/Onk : Nose
Fantabulosa : Wonderful
Glossies : Magazines
Hoofer : Dancer
Kaffies : Trousers
Lallies : Legs
Latty : House
Lills : Hands
Luppers : Fingers
Mince : A camp walk
Nachy : Night
Ogles or Orbs :Eyes
Omi : Man
Omi Polone : Gay man
Polari : Talk, to chat
Polone : Woman
Pots : Teeth
Riah : Hair (back slang)
Riah shusher : Hairdresser
Scarper : To run off
Slap : Make-up
Thews : Thighs
Troll : To go walking
Vada : See, to look
Zhoosh : Style, tart up
What's interesting is how many words that are Polari in origin are still in everyday use, considering the language fell out of favour in the 1970s. A quick search on Google came up with these results.
"A bijou house with potential"
"Buns of steel; Best Butt exercise for summer"
"George Clooney is a dish"
"Videos for Eddie Izzard in drag"
"Men's magazines and women's glossies share the pain of recession"
"Katy Perry wears too much slap"
"In Coronation Street: Simon scarpers"
"Do you ever troll around Cape Moreton?"
"Look at him mincing around, like he thinks he's real cute." (Annie Hall)
"John Sergeant lands Oldie's hoofer of the year award"
And do you remember Queer Eye for the Straight Guy? Zhoosh was said in every single episode!
Any other Polari words that are in everyday use? Let us know in the comments.
Further Reading:
Fantabulosa: A Dictionary of Polari and Gay Slang by Paul Baker.