04 Mar 2010
This is the second part of my interview with Andy Maslen. (Read part one here where Andy reveals the inspiration for his latest book, what he really thinks about content mills and why he proofreads his tweets.)
TI: So tell us a bit more about your background Andy. How did you get into this copywriting malarkey?
AM: I was booted out of my job as a marketing director and needed to replace my income. Since I was always sneaking off to write copy, this seemed like a good direction to go in. Copywriting was always my favourite part of the job, from when I joined that company as a marketing assistant.
TI: You've now been a copywriter for over 24 years. What's been your best project in that time?
AM: Easy! The renewal series I wrote a couple of years ago for BBC Top Gear Magazine. Nothing has ever come close to writing a sales letter from Jeremy Clarkson.
TI: My best projects are where clients give me free stuff! Ok, so what's been your most successful project?
AM: I've written a few control-beating DM packs over the years. Just recently, an integrated campaign we created for a b2b magazine went 30% over target. That was satisfying.
TI: So would you consider yourself a specialist or a generalist?
AM: I'm a specialist. In direct marketing copy for publishers and membership organisations. And in b2b copy. But I'll write about virtually anything as long as it's legal and doesn't make my hair stand on end.
TI: Do you prefer writing direct copy over web copy then? Or do you enjoy writing any type of copy?
AM: I love it all, but if it was my last day in harness and I could choose anything to write, give me a direct mail letter for a consumer magazine.
TI: And do you have a particular time of the day you prefer to write?
AM: Yes. 8.30 am – 11.00 am and 3.00pm – 6.00pm.
TI: What's your favourite part of the copywriting process? Do you enjoy research? Immersing yourself in someone else's business? Or getting down to the writing?
AM: If you categorise copywriters as researchers, planners or writers, then I'm a writer. Nothing beats the pleasure of getting a sentence just right – so that any other words or structure wouldn't be as good. But, truthfully, you can't do that unless you've also figured out how to achieve the client's objectives. I love selling too – that feeling when you've just closed a deal is pretty sweet.
TI: What's the single best investment you've made in your copywriting career?
AM: A copy of How to Write Sales Letters That Sell by Drayton Bird. And my chair, a Haag. (Whoops, that's two.)
TI: We'll allow that! Any copywriting horror stories you want to share?
AM: At 38, being told to do something less than sensible in a briefing meeting by a client who justified it by saying, "I think I know what I'm talking about – I do have two years' experience of marketing". Me sitting there biting my tongue and reflecting that I was writing copy professionally when she was learning about verbs and nouns.
TI: Aaah yes. I was once told by a client that she didn't think she needed a copywriter because she had an English O' Level and could do it herself.
AM: [Laughing] Others include arguing with a client, while jetlagged, thinking, "I can win this". Oh, and when I was still in a corporate job, I printed 30,000 copies of a catalogue with a typo – "cosnumer" instead of "consumer" – on a thumb tab. (Not that it rankles, oh no!)
TI: Is there a company you haven't written for that you'd like to?
AM: Maybe The New Yorker (a brand of Condé Nast rather than a company). I find that the most rewarding relationships are with individuals not companies. I have certainly pursued companies only to find that the glamour of the brand name didn't translate into, for example, prompt payment.
TI: So what's up next? What other projects have you got in the pipeline?
AM: My next book is at the first draft stage. It's about how to run a successful freelance copywriting business. You know about that one as you generously agreed to let me interview you for it! I'm really excited about it – I think it's going to help a lot of people avoid the mistakes I made, save themselves a lot of time/energy and make some decent money.
I'm thinking about maybe creating some sort of copywriting inner circle where people join for an annual membership fee and get one-to-one advice, teleseminars and stuff (hmm, that doesn't sound too businesslike does it?). Watch this space.
TI: Sounds great Andy. Lastly, how can people get in touch with you?
AM: Via our websites www.sunfish.co.uk and www.andymaslen.com. And my blog. Or email me at andy.maslen@sunfish.co.uk. You can also follow me on Twitter @andy_maslen.
TI: Andy, thanks so much for your time today.
AM: My pleasure.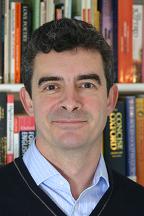 Andy Maslen is an independent copywriter specialising in corporate publicity, direct marketing and subscriptions.
He has written copy for online and offline marketing campaigns for, among others, The Economist Group, Emap, the DTI, BBC Worldwide, Hamleys, The London Stock Exchange, The British Standards Institution, The Landscape Design Trust, Euromoney, Informa, Time Out, The New York Times Company and TSL Education.
Andy is a lifetime Fellow of the Institute of Direct Marketing and author of Write to Sell: the Ultimate Guide to Great Copywriting; 100 Great Copywriting Ideas: from Leading Companies Around the World; and The Copywriting Sourcebook: How to Write Better Copy, Faster – For Everything from Ads to Websites, all published by Marshall Cavendish.