05 Nov 2010
I was at a networking meeting the other day when someone declared that blog posts should always be infotaining. i.e. informative and entertaining. Well, quite.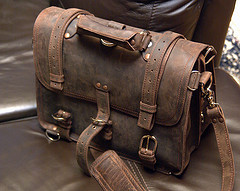 It got me thinking about portmanteaus: those words that are a blend of two other words. Or to be more precise they're the beginning of one word joined to the end of another.
Some are rotten. Like infotaining for one. Or copelessness (from cope and hopelessness). Or those famous couple ones like Brangelina or Bennifer or errr…umm…Jedward.
And some are just invented by marketing departments to get us to buy more stuff. "Oooh you're a chocoholic. Here. Buy another three bars why don't you?"
Some portmanteaus are now so part of our everyday language it's hard to think of their origin as two separate words. "Come over in a fortnight for a ginormous brunch and bring your camcorder with you."
And, of course, our online language is awash with portmanteaus including Internet, email, malware, blog, netiquette. emoticon, webinar, WiFi and Wikipedia to name just a few.
The word portmanteau itself is a blend word as it combines the words porter (to carry) and manteau (cloak) and actually means a small leather travel case. It's often thought portmanteaus originated from the author Lewis Carroll who used them liberally in Through the Looking Glass published in 1872. Chortle and Galumph are two of Carroll's portmanteaus. Not so, according  to fellow copywriter Jonathan Gabay who states that examples of word blending have been found in 7th century Old English manuscripts. 
So without further ado here are a few famous portmanteaus.
Advertorial: Advert and Editorial
Brunch: Breakfast and Lunch
Bionic: Biology and Electronic
Blog: Web and Log
Camcorder: Camera and Recorder
Chillax: Chill and Relax
Chortle: Chuckle and Snort
Dumfound: Dumb and Confound
Email: Electronic and Mail
Emoticon: Emotion and Icon
Fanzine: Fan and Magazine
Fortnight: Fourteen and Nights
Galumph: Gallop and Triumph
Ginormous: Gigantic and Enormous
Glitz: Glamour and Ritz
Hassle: Haggle and Tussle
Humongous: Huge and Monstrous
Infomercial: Information and Commercial
Intercom: Internal and Communications
Internet: International and Network
Malware: Malicious and Software
Motel: Motor and Hotel
Muppet: Marionette and Puppet
Netiquette: Internet and Etiquette
Piffle: Piddle and Trifle
Prissy: Prim and Sissy
Smog: Smoke and Fog
Squiggle: Squirm and Wiggle
Telex: Teleprinter and Exchange
Webinar: Web and Seminar
WiFi: Wireless and Fidelity
Wikipedia: Wiki and Encyclopedia
Got any favourite portmanteaus? Or portmanteaus of the future? Let us know in the comments. 
Image courtesy of Samikki