17 Nov 2010
So you're having a house built. It's a superb design. A grand design in fact. And yes. It is the same house from yesterday.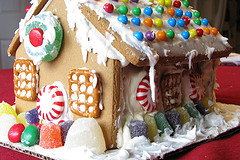 But this time the walls have gone up, the windows have gone in and the roof has gone on. And it's looking mighty fine. But wait. What's this? There's no foundation? No problem, you say. We'll put that in at a later date. Maybe next month. Or later on in the year.
Can you imagine what a pain that would be? To try and install a foundation under your house once it has been built? Not impossible. But not easy. And completely arse about face.
Building a website without thinking about SEO is like building a house without a foundation.
Keyword research reveals which keyphrases are actually being used when people – potential customers – are looking for your products or services. From the keyword research we decide what pages your site needs and the content of each page. Then you get a brilliant copywriter to write optimised copy, with the keywords cleverly weaved throughout so your visitor doesn't notice them but the search engines do. And then your developer and designer come on board, once they know how many pages there are and how much copy there is.
SEO, like a foundation, underpins your website. It should be the first thing you think about not the last. Don't be tempted to get your website up as quickly as possible and then consider SEO. It's not impossible to optimise a site once it's live. But it's not easy. And it's completely arse about face.
Find out more about SEO copywriting or get in touch.
Image courtesy of terren in Virginia